The Massachusetts Manufacturing Extension Partnership (MassMEP) tells the story of Toner Plastics and its Wonder Loom success in its 2014 Annual Report of Impact on Massachusetts Manufacturing.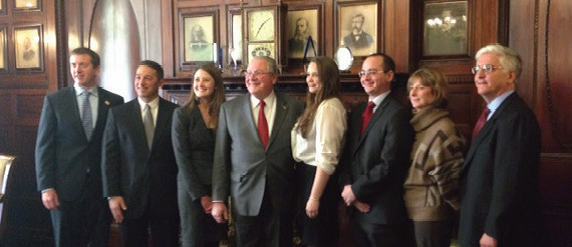 Toner Plastics CEO Steve Graham (second from left), his wife Jean (second from right) and Peter Russo (far right) from the MassMEP are in the photo above with the Massachusetts Speaker and the other manufacturers who were recognized.
The Wonder of Manufacturing the Wonder Loom in Record Time
March 20, 2015
Choon Ng's Rubber Band Loom, which he invented and patented in 2005, suddenly took off in the summer of 2013 thanks to viral YouTube videos. Within two months his sales were increasing rapidly, and he needed to act quickly before other companies began to copy his product and produce cheaper versions with reduced quality and design. He decided his best strategy was to redesign the product for more efficient production, market it nationally, and commit to making it in America.
MassMEP's Peter Russo read Ng's story and contacted his client Steve Graham, owner of Toner Plastics/The Beadery in Agawam, MA. Toner Plastics and The Beadery is a manufacturer of high-quality products for the art, crafts, and toy industries, and a long-term supplier to Walmart, which has a "Made in America" initiative. Graham contacted Ng, and what began by identifying a potential opportunity for a client rapidly became a chance for a project manager to become a trusted advisor and member of a team of motivated and highly skilled individuals who came together to help Toner Plastics/The Beadery do the impossible.
Walmart would only commit to an order if they were guaranteed that a total of 450,000 units to arrive before December 1, 2013, which was only 13 weeks away! Graham contracted Russo for assistance in clearly detailing the steps,resources, and timing necessary to achieve their goals. Toner/The Beadery enhanced their speed-to-market processes across the board and brought new product to Walmart in 13 weeks versus the usual average 30 weeks.
The original order was shipped on time, and actual consumer retail sales exceeded expectations. Walmart ordered more product in December for direct shipment to stores, meeting the last-minute explosive Christmas demand. If this product had been made in China, it would have been impossible to fulfill demand. With the successful on-time delivery of the Wonder Loom to Walmart for their 2013 holiday season, the team once again began planning, researching, and developing the next generation of products to join Wonder Loom on the shelves in 2014.